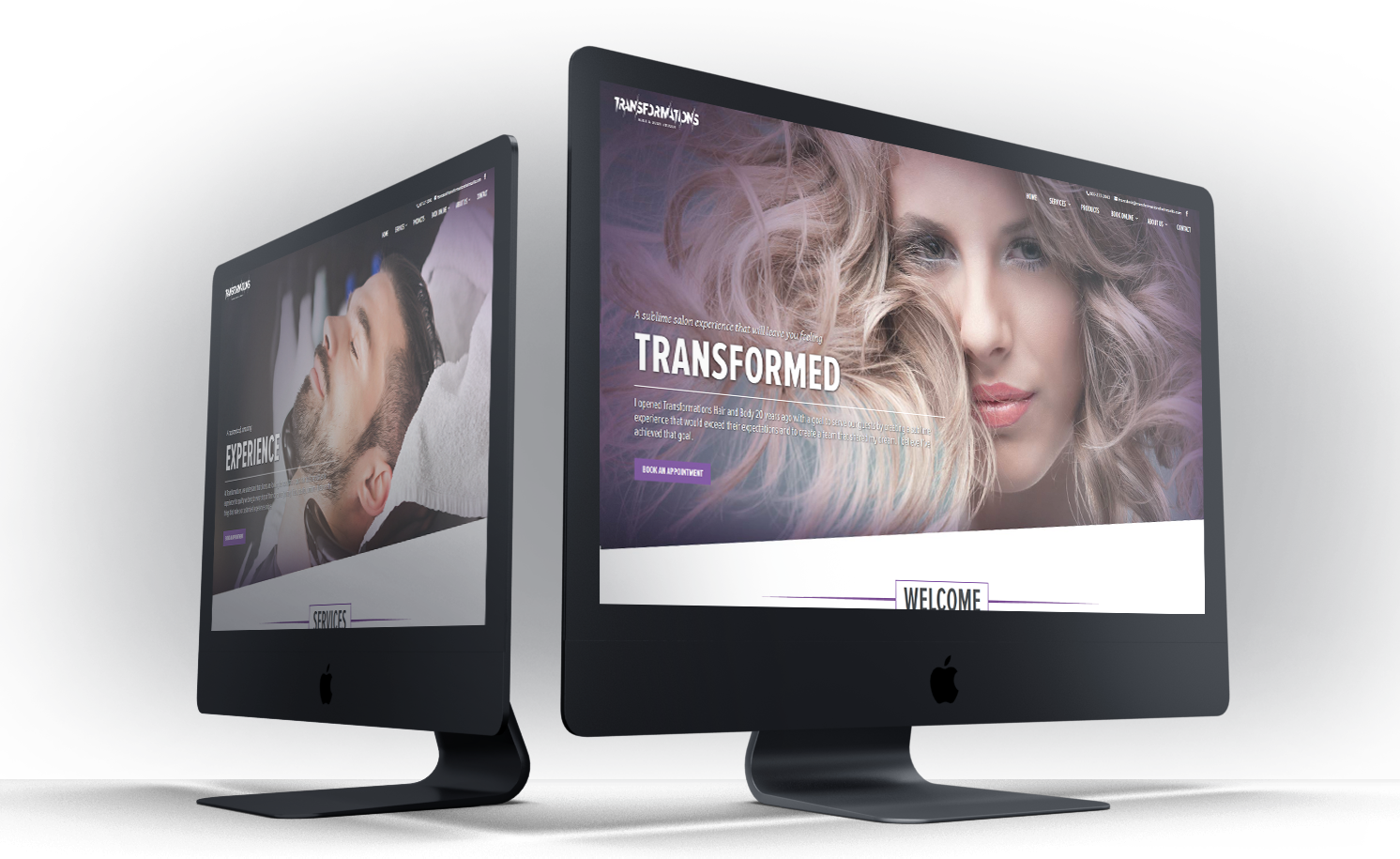 a comprehensive
marketing engagement
Transformations Hair & Body Studio client engagement:
brand development, logo design, website design, external signage, email marketing, event marketing & advertising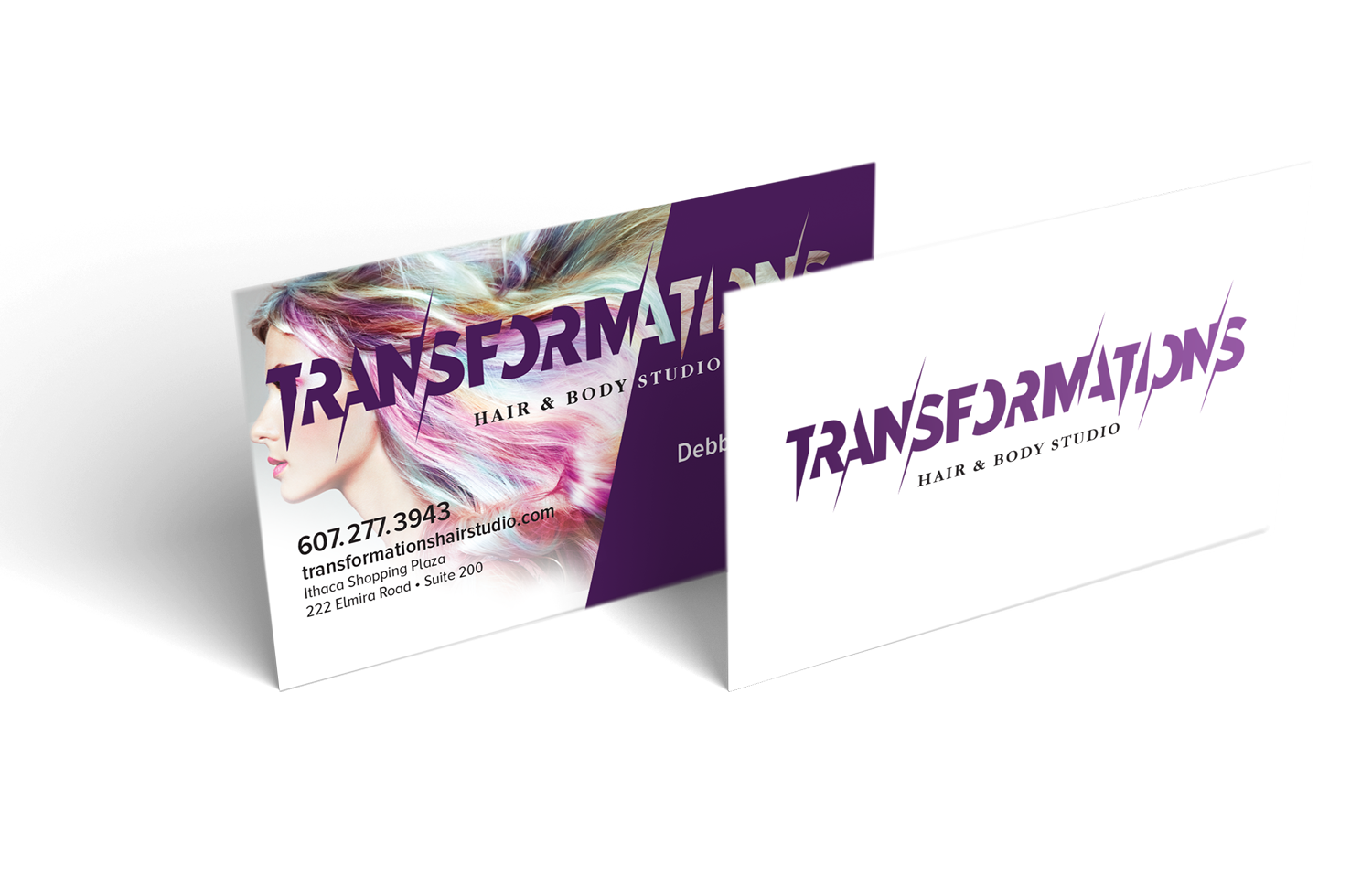 Logo redesign for an iconic Ithaca-based salon
Transformations Hair & Body Studio engaged us to completely rebrand their cutting-edge salon from the ground up. We were clients of Transformations' before they became our client, which gave us the valuable opportunity to experience their brand promise and understand the stylists, business, customer base, and service quality before providing them with design and marketing services.
The rebranding process began with a new logo design. Their previous color palette, orange and green, was dated and lacked cohesiveness. Their old logo design featured a butterfly, also outdated and a symbol that is overused in the industry. What Transformations needed was something fresh, fun, exciting, and unique. The new logo design communicates all these elements. Their new logo emulates their cutting-edge styles and quality service. It's edgy, colorful, and has a sense of personality and style lacking from the previous Transformations brand identity.
Brand development process to establish brand messaging & graphic standards
Our goal through the entire process was to reinvent the Transformations brand to inspire new interest within the local community in which it was already well established. Many considerations were made during the process to ensure that existing customers embraced the new brand. The brand reveal was met with a tremendous sense of excitement from existing customers, the community, the stylists, and the owner.
The new brand platform featured an entire collection of imagery, a cohesive color palette, a brand standard guide, and new brand messaging which more accurately communicated the value of their services and their unique qualities as compared to other local competing salons.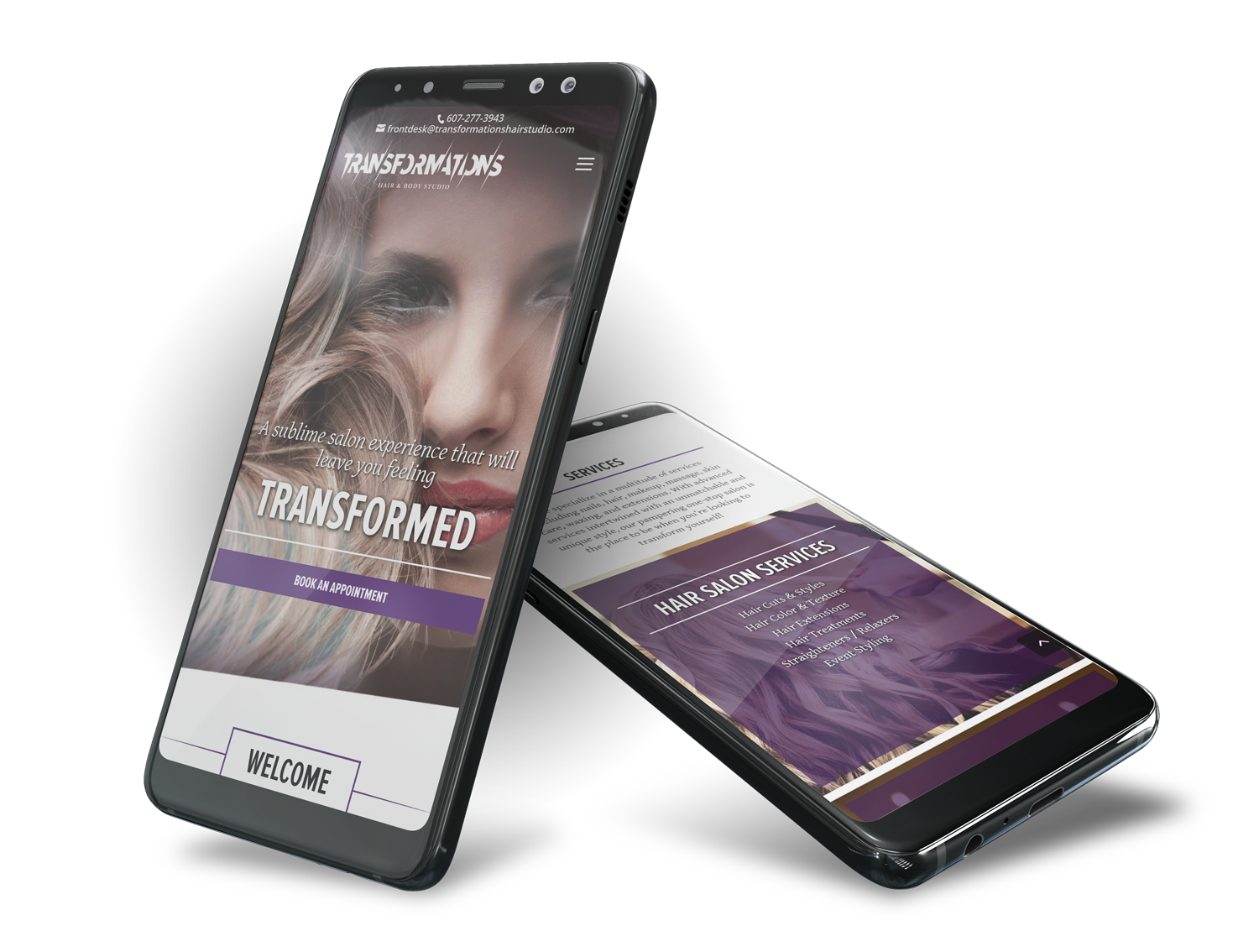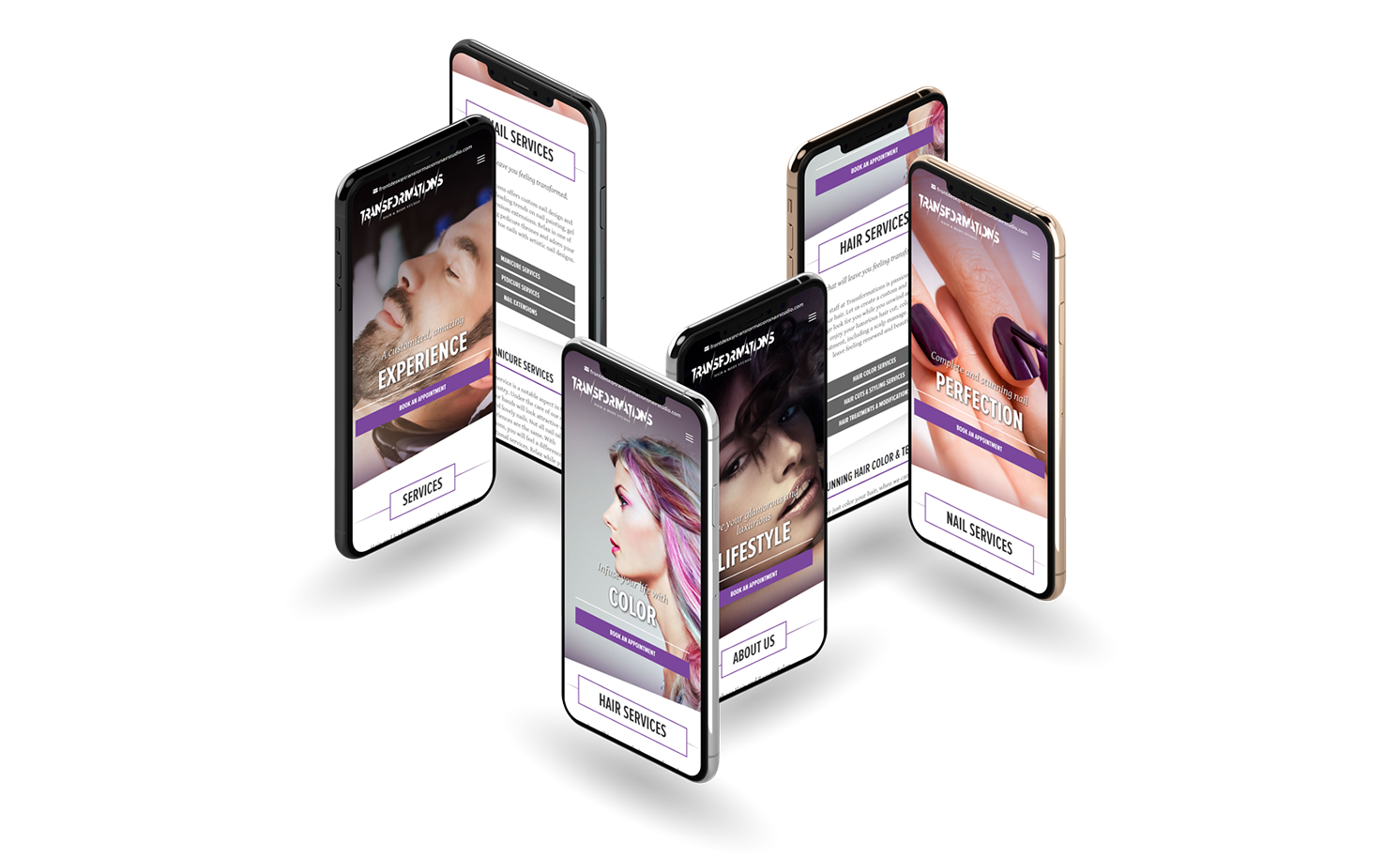 Website redesign to magnify the salon's marketing potential
With a new brand platform and strong logo design in place, our next step was to transform their online presence to magnify the brand even further and operate as a valuable business tool. The new website design features beautiful, custom images on every page that finishes with a diagonal edge detail that ties with the diagonal elements in the logo design.
The new website also incorporated an integrated appointment booking system, Vagaro, to provide a convenient, online format for clients to book appointments online. Overall, the new website functions as a much more successful lead generation and marketing tool.
External signage design to revitalize the retail space
We coordinated the website launch, logo, brand reveal, and external signage installation to occur together so all elements of the new Transformations brand were revealed to the public simultaneously.
We coordinated the installation of a new glass door opaque decal, salon store-front sign, and street-side pylon sign to all be installed within a single morning.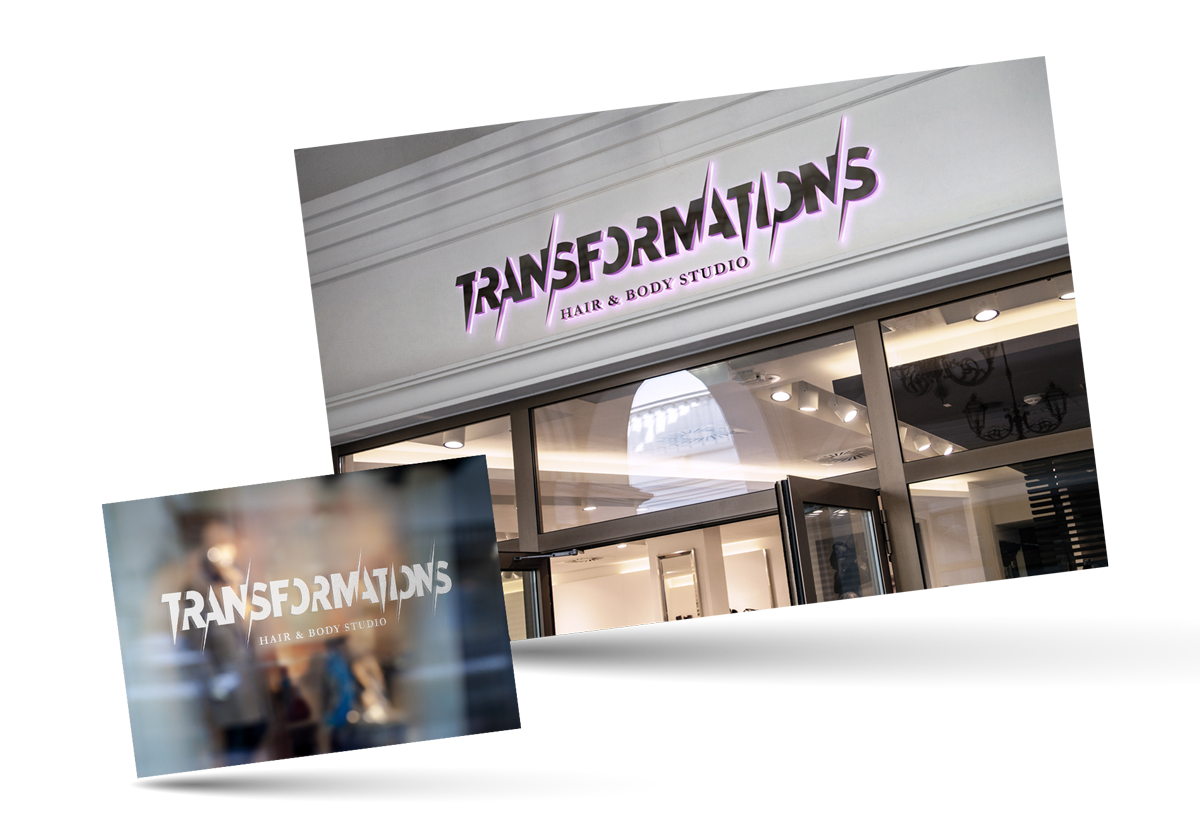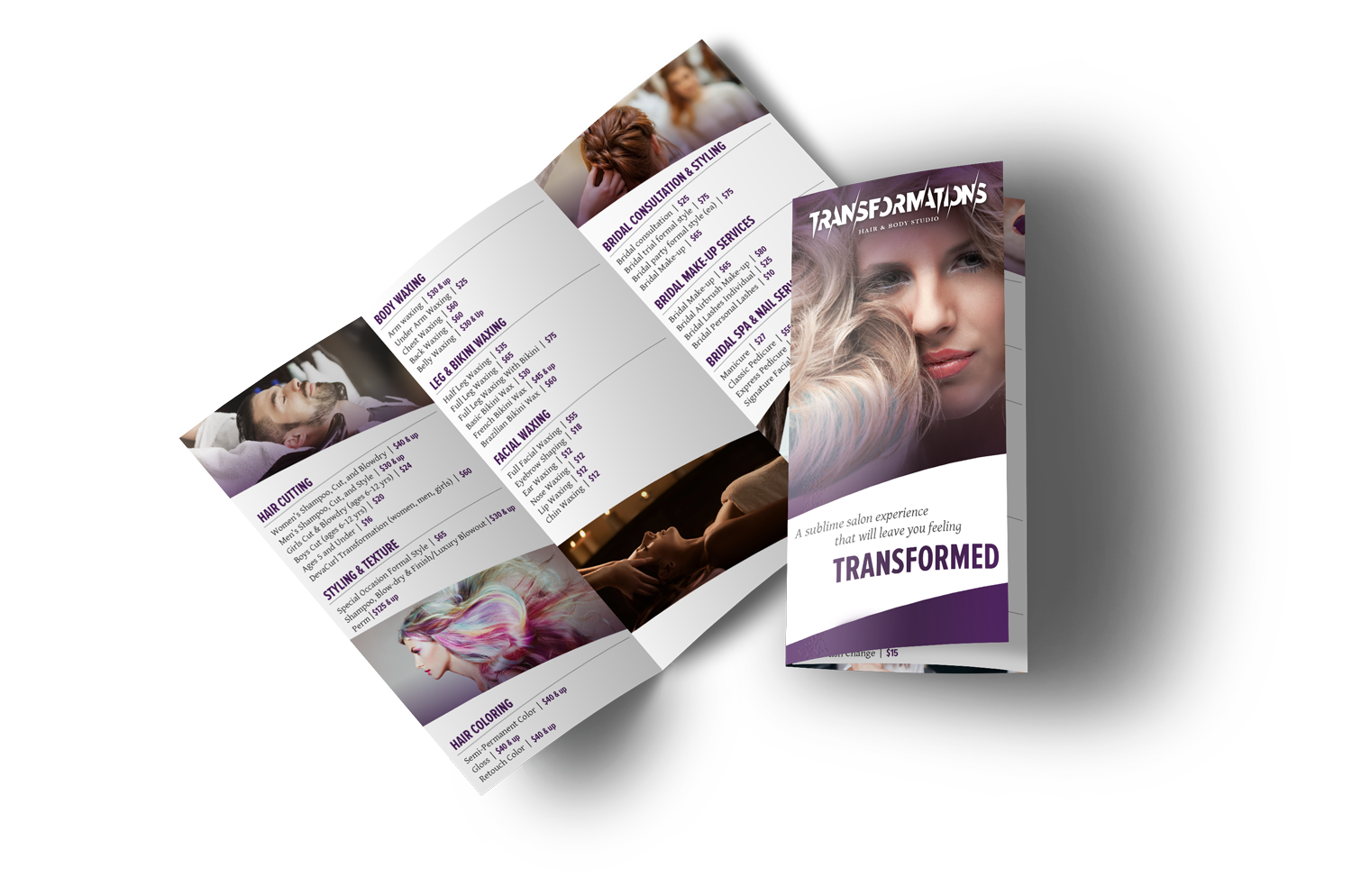 Brochure design for general service promotion & marketing
A well-design informational brochure is a staple for any service business to market itself. It's a small, economical way to provide more information to customers, increase sales, and educate clients on other services you provide.
True Creative designed a tri-fold brochure for Transformations to use for all of these purposes. Our goal for every marketing application, print or digital, is always to maintain a cohesive brand. We used all elements of the new brand platform to design this tri-fold brochure.
Monthly email marketing to continue to foster client engagement
Once the new website launched and the new brand was revealed and announced, True Creative began a comprehensive monthly email marketing campaign to Transformations' contacts; clients, prospects, customers, and more. Each month we designed and built a new email featuring promotions, salon news, events, and updates and coordinate the list management & segmentation to ensure quality open rates and click-through rates.
Email marketing is one of the most valuable marketing channels for your business. Transformations has seen tremendous marketing success from our monthly email campaign.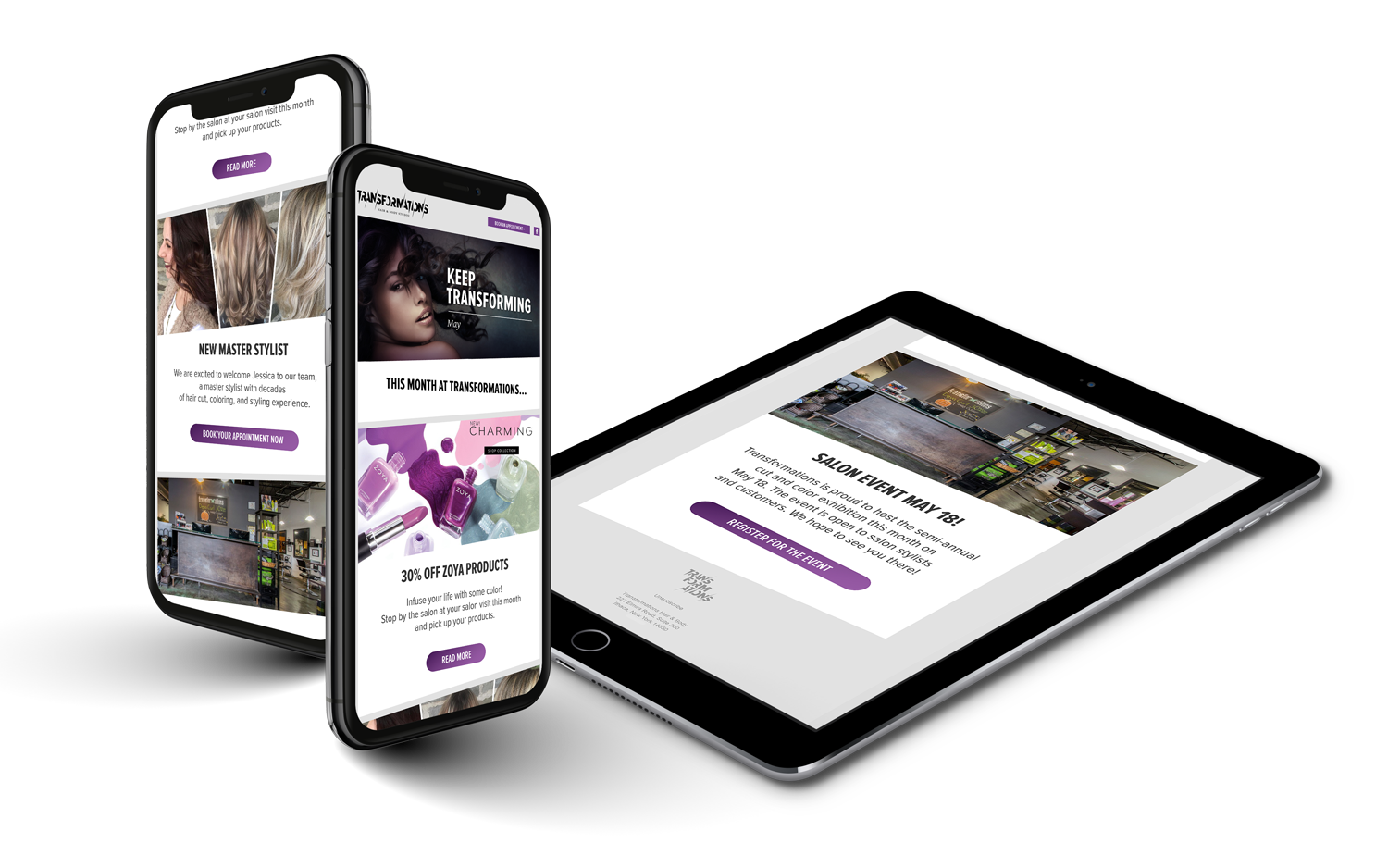 Increase in successful email deliveries
Average email open rate compared to 12% (industry avg.)
Average email click through rate compared to 3.8% (industry avg.)
Increase in email subscribers
Social Media Advertising to promote brand reveal event. 
Social media advertising is a powerful online marketing channel to home in on the specific audiences that live within a certain region and target those that have specific interests to improve the chances of a lead, conversion, or sale.
To promote Transformations' 25th anniversary and to celebrate the new brand reveal, we implemented social media advertising to drive traffic to the new website, generate awareness and engagement across Transformations' social media channels, and encourage event registrations to Transformations' 25 Anniversary Brand Reveal event. We designed and launched a Facebook carousel ad featuring new services, event offerings, and event details.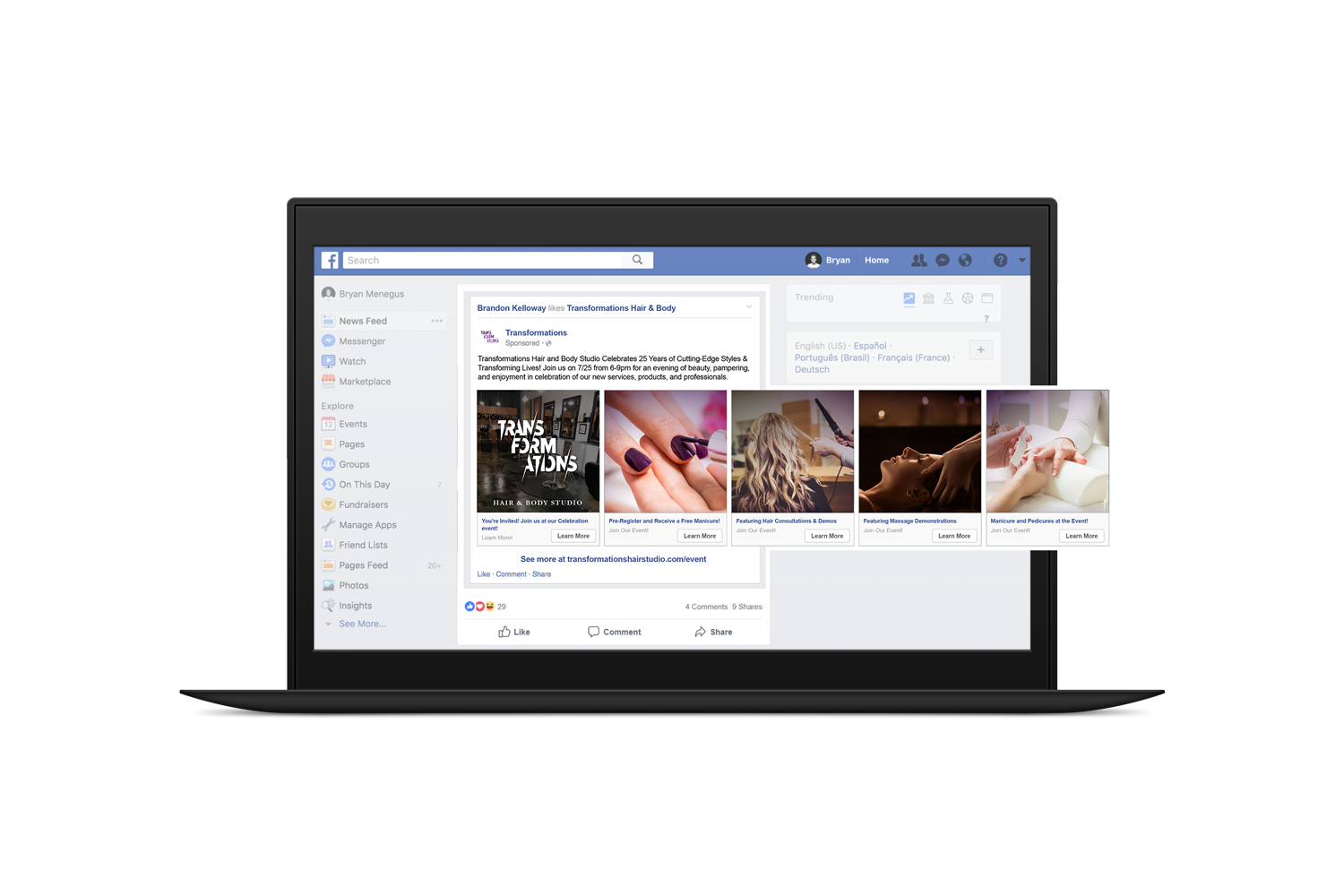 Daily ad budget during ad campaign
Ad impressions from 1-week social media advertising campaign
People reached during 1-week social media advertising campaign
Social media campaign ad link clicks
Page views during 1-week ad campaign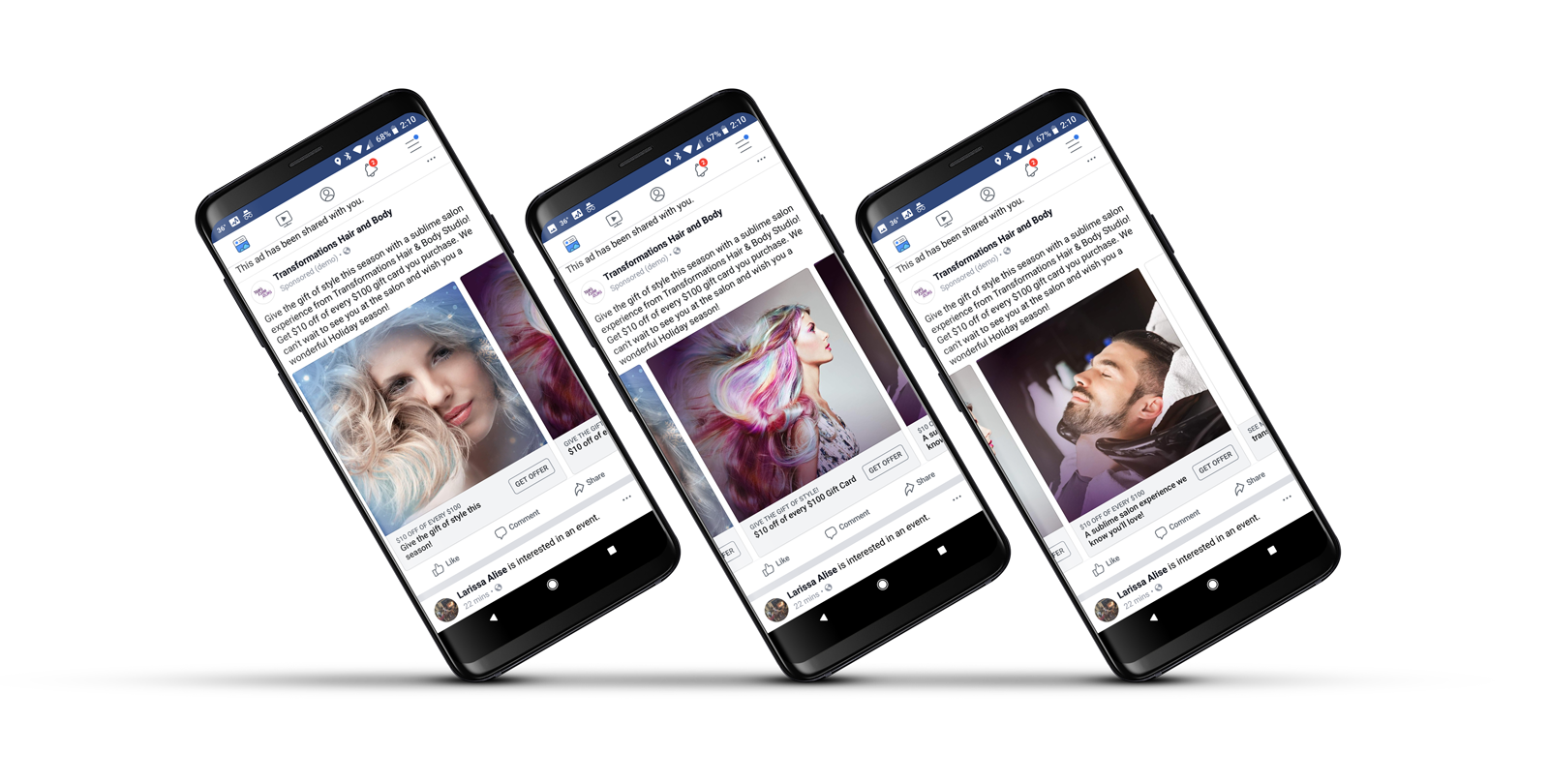 Social Media Advertising to promote Holiday offers. 
With the Holidays approaching, True Creative designed and launched a social media advertising campaign to promote the discount of pre-paid $100 service gift cards to the salon. This campaign was designed to drive sales in what is typically a slower period for salons while providing customers with a valuable way of purchasing a gift for those they love during the Holidays.
Daily ad budget during ad campaign
Ad impressions from 4-week social media advertising campaign
People reached during 1-week social media advertising campaign
Social media campaign ad link clicks
Page views during 4-week ad campaign