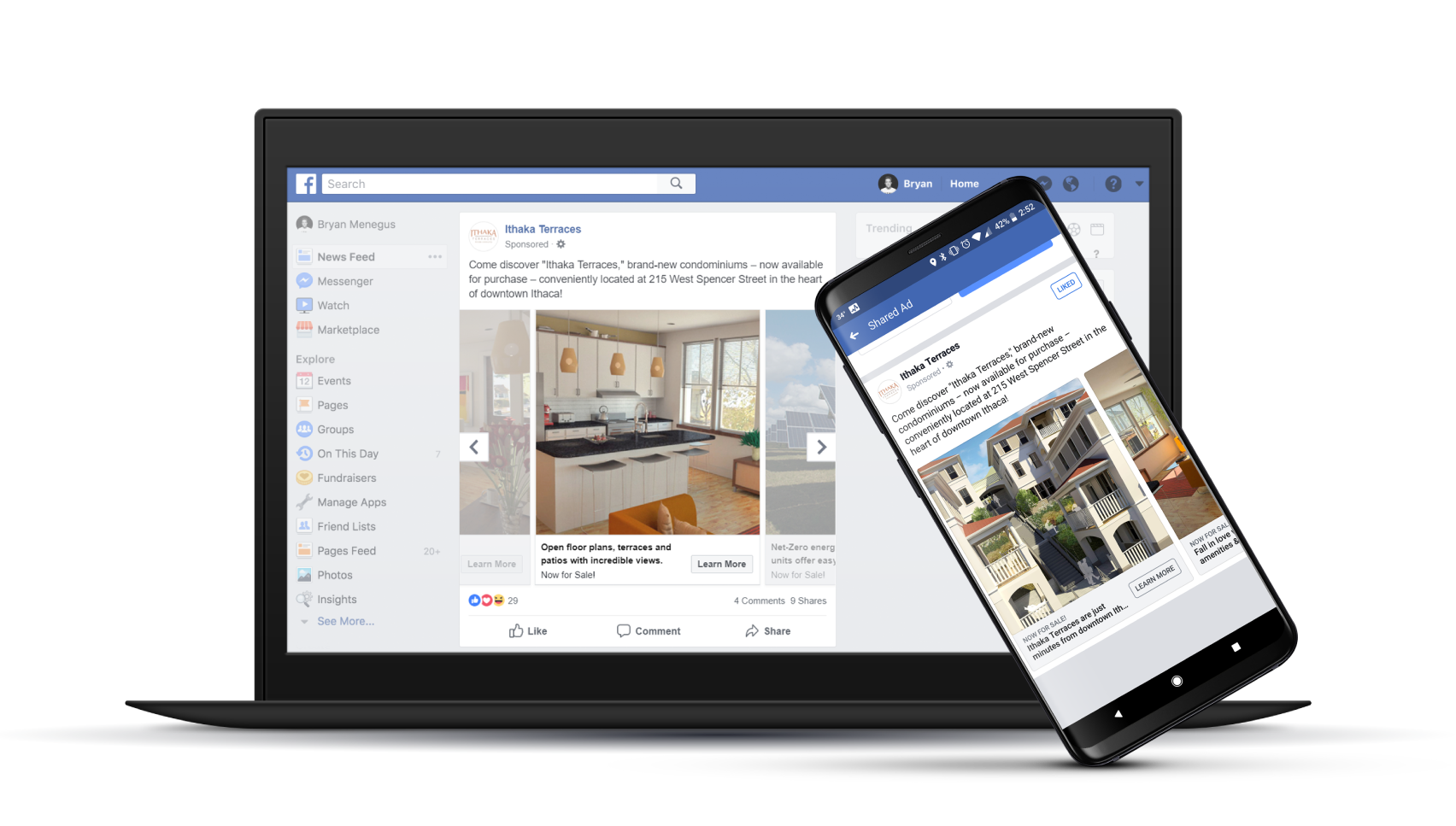 we increase
web traffic
by up to 10x
Ithaka Terraces Condominiums client engagement:
Event marketing, advertising campaigns, event management, email marketing, social media / digital / print advertising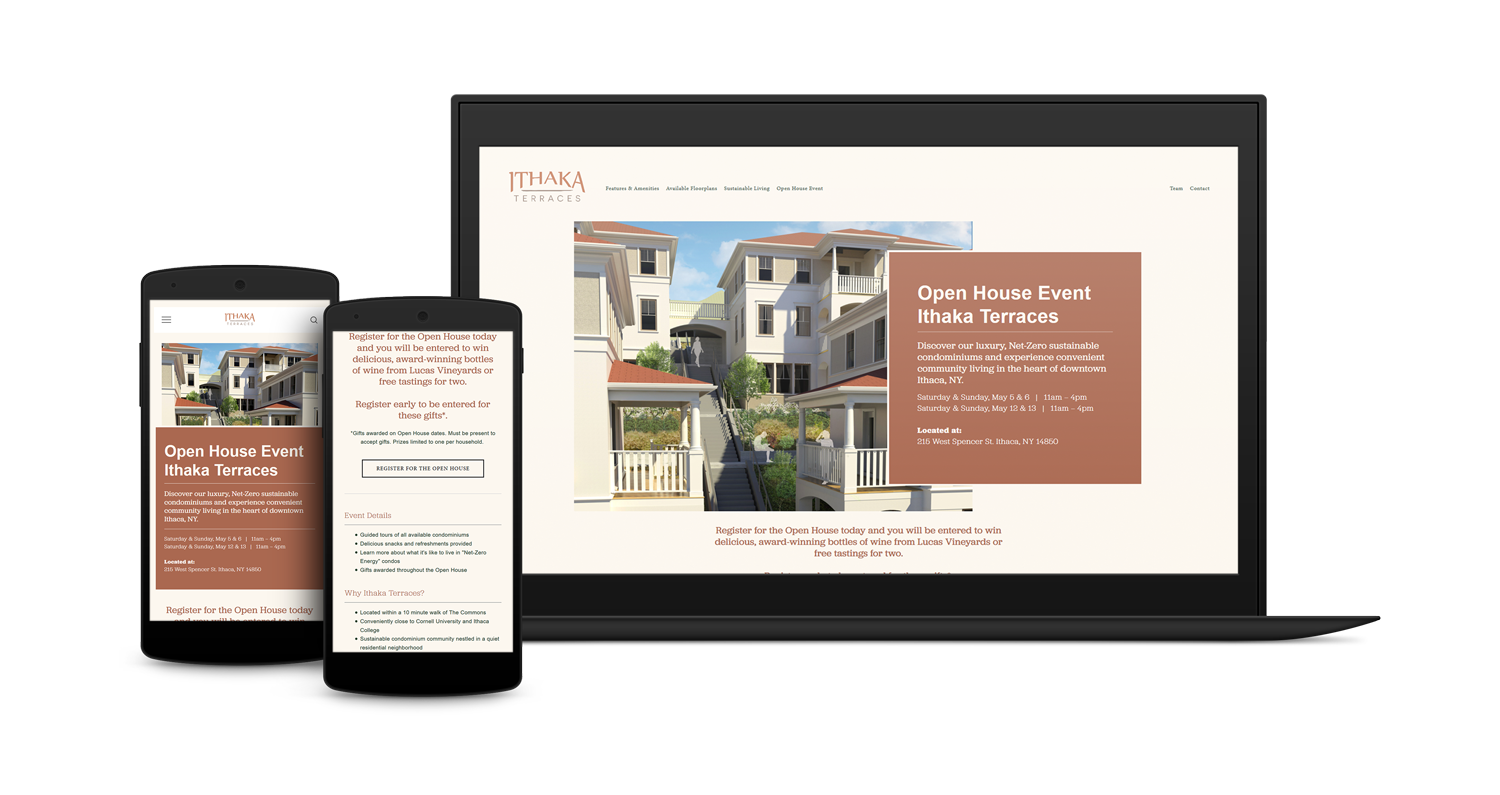 Website design & management; building a successful marketing platform to ensure campaign performance
Ithaka Terraces is a condominium complex newly built just minutes from downtown Ithaca. Featuring beautiful Greek-inspired aesthetics, they are unique to the area.
True Creative engaged Ithaka Terraces to provide event promotion and event management services for the Spring Open House events. Before investing in ad campaigns, it's important to ensure that your website platform is optimized for lead conversion. If it isn't, then your investment in a campaign won't yield an appropriate return—sales, registrations, etc. Before implementing the advertising campaigns for Ithaka Terraces, that's exactly what we did.
True Creative optimized the Ithaka Terraces website, incorporated analytics tracking, designed a landing page specifically to convert leads for the Open House campaign, and custom-coded the page for responsive devices before launch. With these elements in place, the landing page and overall Ithaka Terraces website was ready to begin receiving ad campaign traffic.
Open House Event Promotion, using multiple marketing channels to advertise and promote the events.
True Creative used a combination of radio advertising, print advertising, social media marketing, social media advertising, and digital advertising to promote the Ithaka Terraces Open House events. This multi-channel marketing approach allowed us to reach a variety of different audiences while also gauging and reflecting on the most successful channels for future marketing of the condominiums.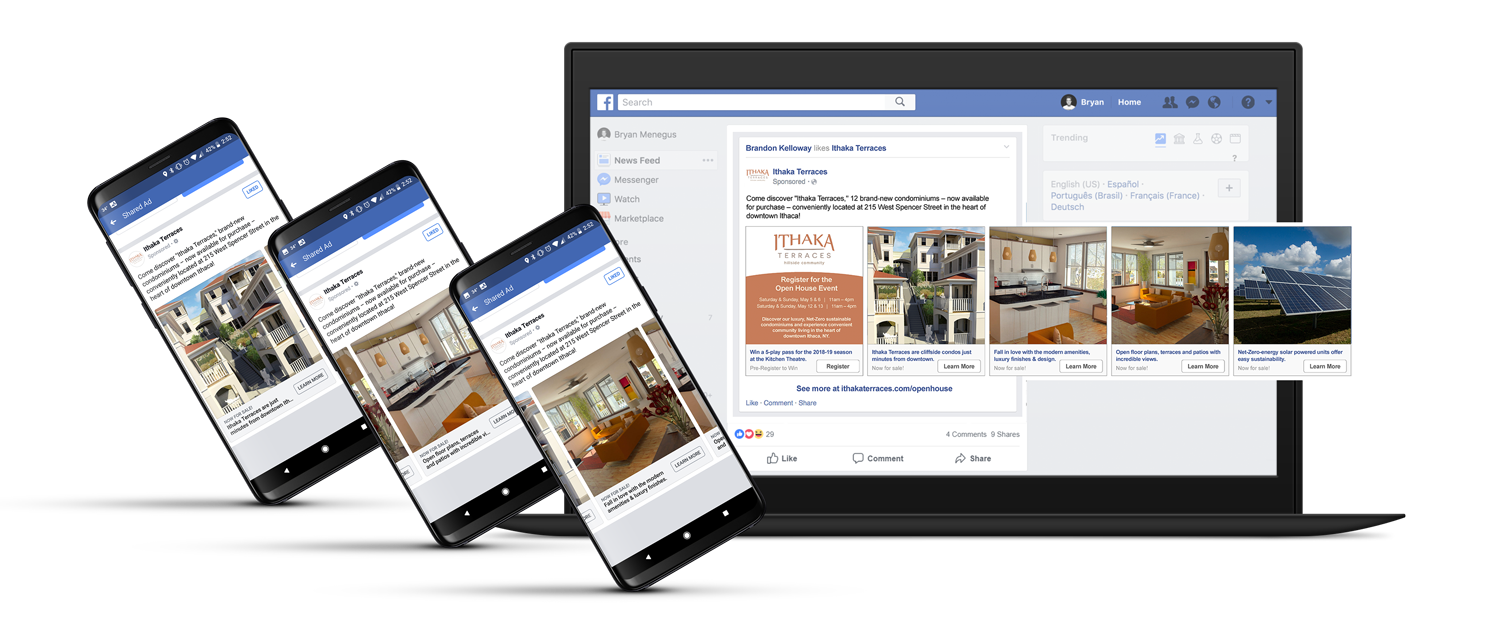 People reached during 3-week social media advertising campaign
Ad clicks from 3-week social media advertising campaign
People reached during 3-week digital advertising campaign
Referrals from local radio advertising
Google Search positions on page 1 of Google within 90 days of site optimization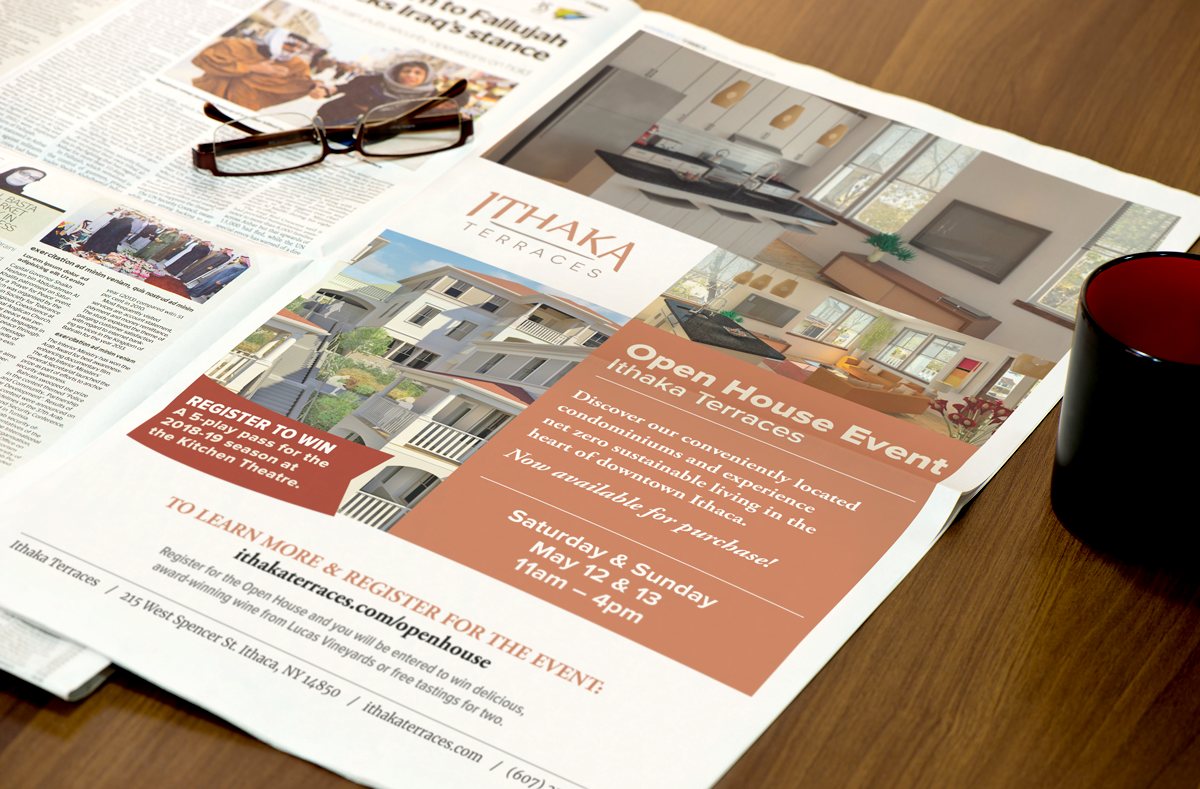 Print advertising in local print news vendors to generate regional interest 
Many people feel that print advertising is no longer a valid form of marketing—not true, but like any marketing avenue, it should be used strategically if it's going to be effective. True Creative used print advertising in local news media publications to promote the Ithaka Terraces open house event to locally-targeted audiences.
Event Management services including event property staging, lead management, property tours, and follow-up marketing to tour guests.
In addition to all marketing and advertising campaigns leading up to the Open House events, True Creative was also contracted to provide event staging with food and wine giveaways, lead management, property tours, and follow-up marketing to tour guests who attended and registered with their contact information at the event.
True Creative designed and produced informational resources, including an overview brochure and floorplan flyers for use during the event and following the event in future marketing and promotion.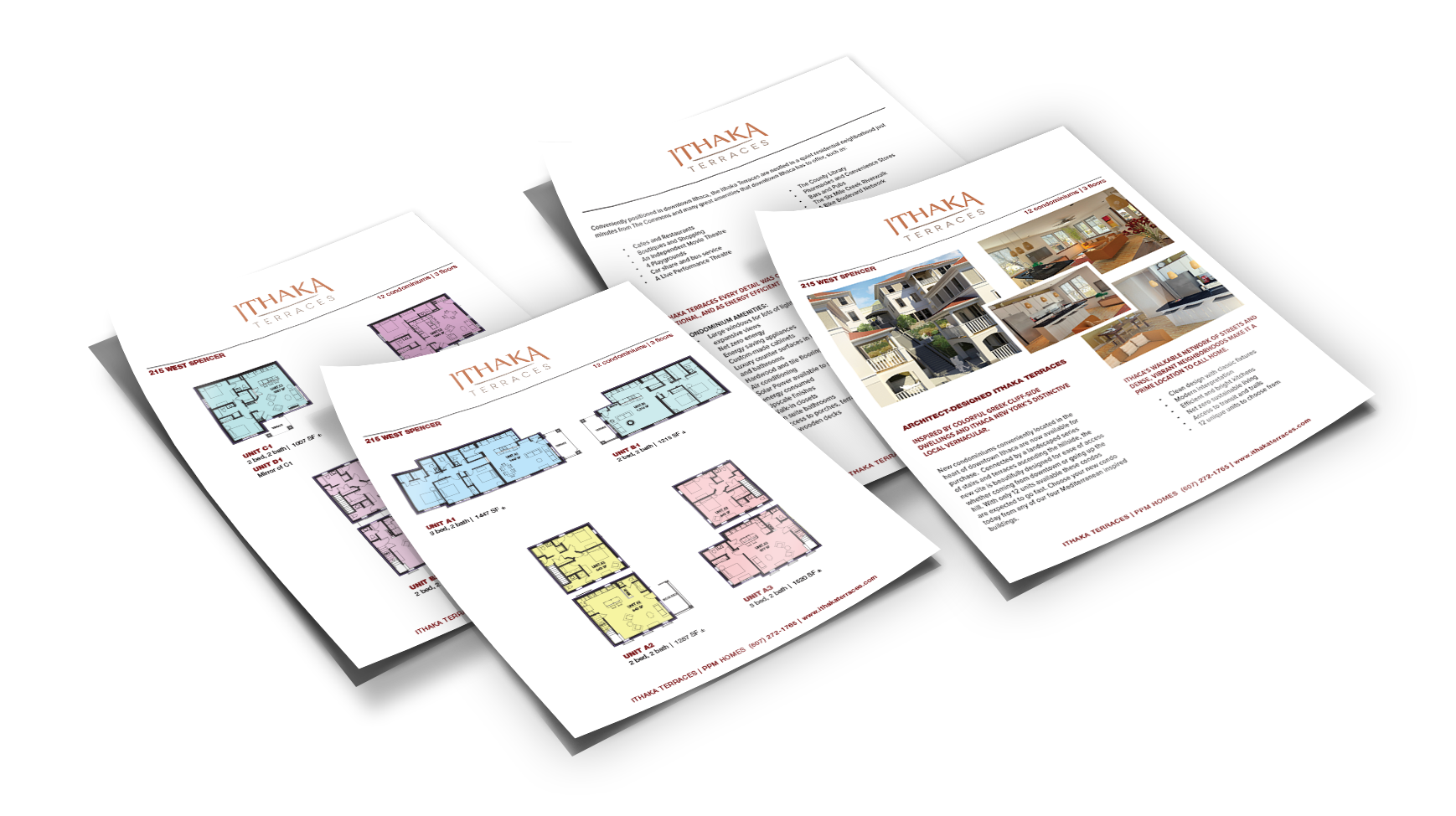 Bottles of personalized wine gifted to pre-registered guests
Hors d'oeuvres settings placed throughout the condo units
Steps climbed all day for 4 tour days
Condo units staged for the 4 Open House event dates
Guest emails collected from guest registrations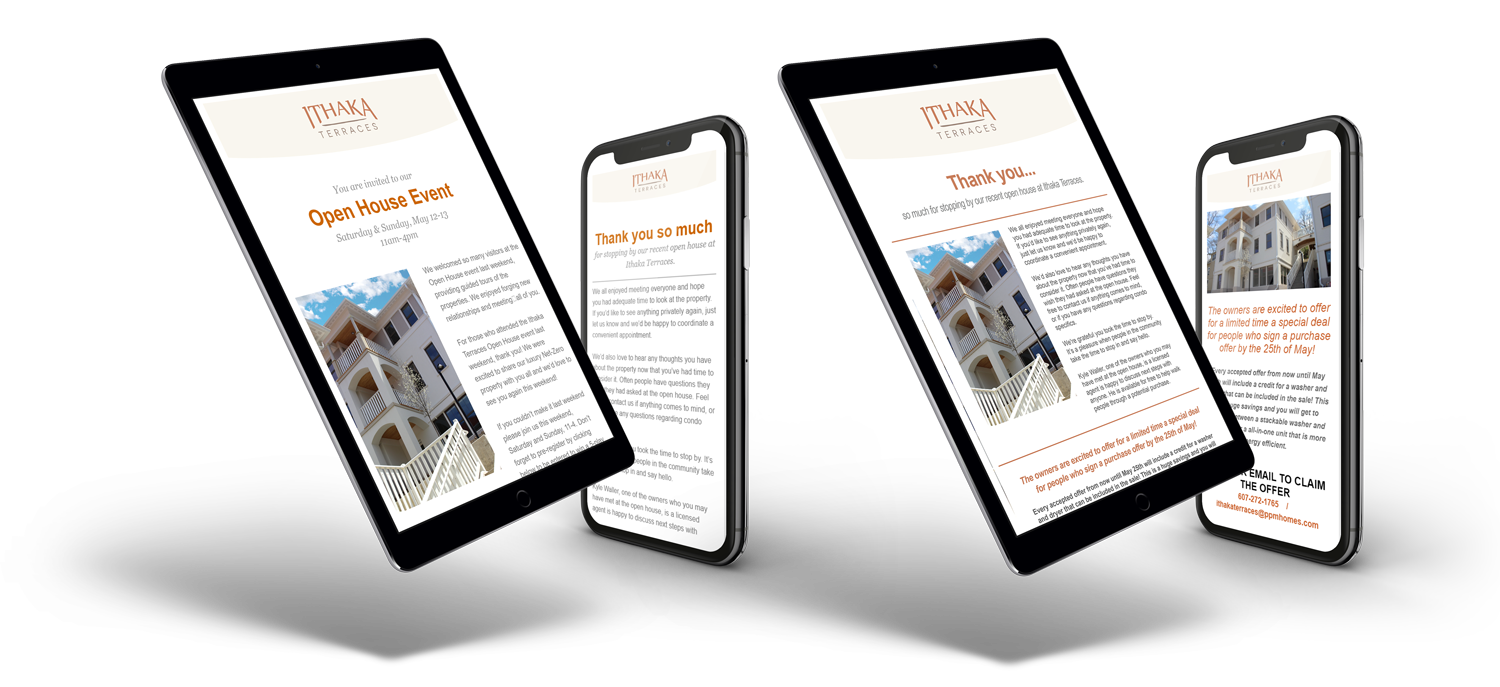 Email marketing campaigns to follow-up with leads generated during the Open House Event campaign
Building relationships with guests at the Open House events is meaningless unless you have ongoing follow-through communication with them to answer questions and provide subsequent tours of the property. Between the first weekend's scheduled Open House events and the final weekend's Open House events, we designed, built, and launched a custom email marketing campaign to event registrants thanking them for their visit and encouraging them to return or reach out with future interest.
Open House follow-up emailsent
6-month ongoing marketing campaign including monthly SEO, social media advertising, website maintenance, and lead management.
Following the Open House events spanning 4 days and 2 weekends, True Creative launched a 6-month ongoing advertising campaign to drive visitors to the Ithaka Terraces website and invite them to download available informational resources by providing their email address. This allowed Ithaka Terraces to begin building a contact database of interested individuals to follow-up with to schedule a tour and gauge potential interest. Overall, the campaign was met with tremendous online success, averaging 1,000 – 1,500 website visitors per month, nearly 10x the website traffic received monthly without the paid advertising efforts.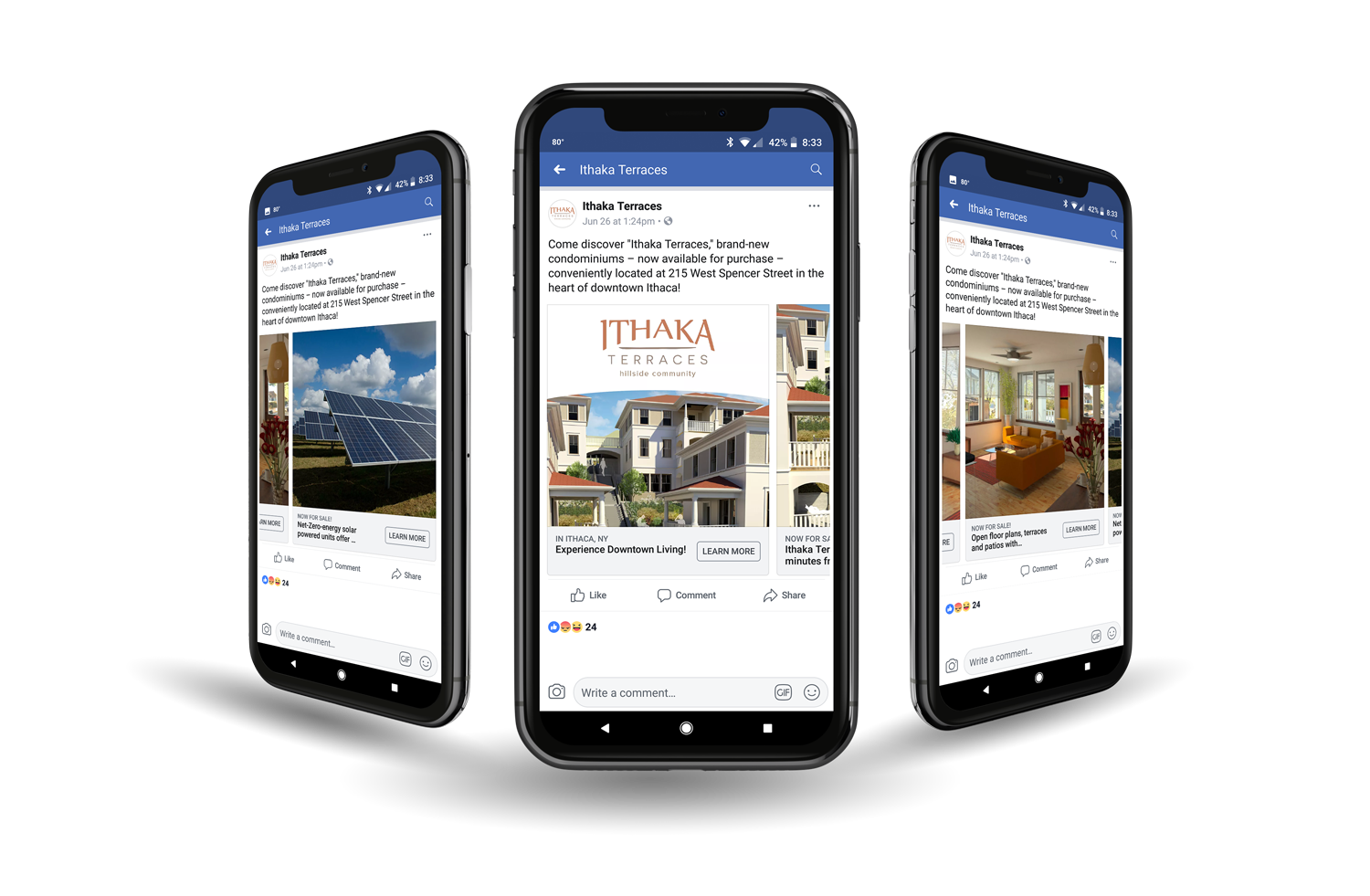 ad impressions from 6-month campaign advertising
people reached from 6-month campaign advertising
ad clicks during 6-month campaign advertising
website visitors during 6-month campaign (10x non-campaign site traffic)
website page views during 6-month campaign